What is Metaverse Real Estate?
Metaverse real estate is a new form of digital property on the blockchain. It can take many forms, such as 3D virtual spaces, virtual islands, and in-game assets. As more and more businesses are moving to these online platforms, having real estate while it's still early days can be an excellent investment.
To help you understand how a metaverse property works, let's take the example of Decentraland, one of the most popular platforms for buying virtual land. Every land in Decentraland is a non-fungible token(NFT) on the Ethereum blockchain. The exclusivity ensures that each piece of land is unique, and you can't replicate it.
Decentraland organises their entire land into parcels; each 16m x 16m, similar to real-world land plots. You can use Decentraland's map to find the perfect spot for your business or home.
Benefits of Having Metaverse Real Estate
The recent pandemic has shown us the growing necessity of having a digital presence. Many businesses have moved online, and this trend will only continue. Having a metaverse property can help you stay ahead of the curve. 
Not only is it a good investment, but it can also be a lot of fun. You can build whatever you want on your land without any restrictions. You can even design your avatar and explore the many virtual worlds. 
If you're still not convinced, here are a few more reasons to buy metaverse real estate for your business in the metaverse: 
Decentralisation: Traditional real estate rules and regulations do not apply to the metaverse.
No physical limitations: The limitations of the physical world don't exist in the metaverse. This means you have plenty of freedom in designing and building your property.
Security: Although advanced computers may be able to hack into blockchain-based systems in the future, they are much more secure than traditional systems. 
Earning opportunities: Lastly, owning a metaverse property can also generate income. You can earn from your virtual land or metaverse property through:

Selling it for a profit in the future
Renting it out to other businesses
Advertising on your platform
Hosting virtual events and music festivals on the metaverse
Establishing an online or virtual store
Creating and selling NFTs on the relevant metaverse
Now that we know several benefits of owning metaverse real estate, let's look at how to buy a metaverse property. 
How to Buy Metaverse Real Estate?
Metaverse is a blockchain-based virtual reality platform where you will find plots, lands, properties, and other real estate-like assets in the form of NFTs or Non-Fungible Tokens. Each NFT has unique characteristics, and marketplaces use blockchain technologies to store all transaction data for an NFT. Due to this decentralised transaction management system, someone can't simply duplicate an NFT.
Once you decide to buy a metaverse property or real estate, here's the procedure.
Step 1: Get Cryptocurrencies from an Exchange
Cryptocurrencies dominate the metaverse platform, and many of the metaverse marketplaces even have their native tokens or digital coins. While some platforms may accept traditional payment methods like debit or credit cards and wire transfers, that's not very common. 
The first step, therefore, is to buy cryptocurrencies from a good and secure crypto exchange. Some of the most popular cryptocurrency exchanges are Coinbase, Binance, and Kraken. These are reputable exchanges with a user-friendly interface, making it easy for first-time buyers. 
Once you create an account on any of these exchanges and verify your identity, you can start buying cryptocurrencies. Most exchanges also have mobile apps, so you can trade on the go. 
When buying cryptocurrencies, make sure to compare the prices on different exchanges. The prices can vary quite a bit, and you want to get the best deal. Once you have bought the desired amount of cryptocurrency, you can move it to a wallet.
Step 2: Store Cryptocurrencies in a Wallet 
It is essential to have a cryptocurrency wallet to buy or trade cryptocurrencies because exchanges don't usually allow you to keep your coins on their platforms. The most popular cryptocurrency wallets include Metamask, Coinbase, and Exodus. 
You can use digital wallets to store different types of cryptocurrencies. Some wallets only support a few cryptocurrencies, so check that before choosing a wallet. Once you have set up your wallet, you need to link it to your exchange account. Find your wallet's public address and add it to your exchange account list of authorised addresses. 
Step 3: Choose a Platform and an Asset
The next step is choosing a platform from which you want to buy metaverse real estate. Some popular platforms are Decentraland, Somnium Space, Voxels, and The Sandbox. 
Each of these platforms has a different approach to virtual reality. Decentraland, for example, is a virtual world where you can buy land and build whatever you want. Voxels, on the other hand, focuses on creating an urban environment, and The Sandbox allows users to make games. 
Step 4: Buy from the Platform or a Marketplace
After you have found the perfect piece of real estate, virtual land, or metaverse property in your chosen metaverse platform, it is time to make the purchase. The process of buying depends on the platform you are using. Most platforms have their own marketplaces nowadays. You can directly visit the internal marketplace and purchase your desired property at a specific price. 
For example, if you want to buy a property known as LAND on Decentraland, you can use the platform's native token, MANA. You can get MANA in exchange for your BTC or ETH coins from a cryptocurrency exchange and then use MANA to purchase LAND.  
Many of the metaverse marketplaces also include an auction feature, where people can resell metaverse properties they purchased previously. You can either buy these properties at the asking price or make an offer, just as you would at a real-world auction.
In addition to the platform-specific marketplaces, you can also visit a regular metaverse and NFT marketplace like OpenSea, where you will find assets from various platforms together. 
Best Platforms to Buy metaverse Real Estate
Now we will quickly review the best platforms to buy metaverse real estate. 
Sébastien Borget launched Sandbox nearly a decade ago as a decentralised virtual reality and gaming platform, where gamers or participants can experience immersive 3D modelling and in-game assets. Users can use their own imagination and the in-game resources to build custom gaming experiences for themselves and other participants. 
SAND, an ERC1155 token, is the native token of Sandbox, which you can use to purchase in-game real estate. Like other popular virtual property models, Sandbox also allows users to develop and monetise their property through custom items. 
Sandbox users can buy real estate, known as LAND, directly from the official Sandbox store of the OpenSea marketplace. 
Ben Nolan established CryptoVoxels as an open, virtual art gallery on the metaverse, which was later rebranded as Voxels. The platform is unique in the sense that it did not seek any venture capital funding. Instead, the developers of Voxels aimed to make it a people-focused platform.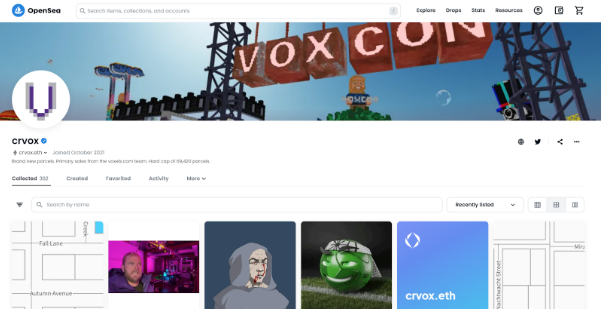 Voxels does not have a dedicated marketplace. The platform lets users purchase assets known as Parcels from their official OpenSea store. Users will find a map of the virtual world of Voxels and create art galleries with the purchased NFT items. 
The world map includes roads, lanes, buildings, and parks. Users also get the opportunity to rent their parcels to other businesses or users. 
When you discuss metaverse real estate, you can't ignore Decentraland, as this one of the pioneers and biggest metaverse economies. Users can use the platform's native token MANA to purchase real estate properties and gradually grow them through additional in-game enhancements and customisations. 
Decentraland caps the maximum MANA tokens a user can own to 400. There are a total of 90,601 LANDs during first sales events. Now users can buy or rent LAND and Parcels from fellow users or the Decentraland marketplace. 
Bloktopia is a metaverse platform with an authentic real estate vibe, where you can buy specific assets or spaces from a 21-level skyscraper.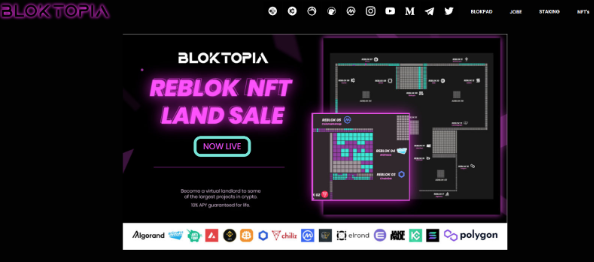 Users, known as Bloktopians, can then add various customisations to their blocks or virtual spaces to rent or sell them to other users or businesses. You can also use your blocks as business advertising tools and earn revenue.
Somnium Space is an Ethereum-based open-source virtual reality platform which allows you to access plenty of 3D modelling tools and the game's immersive VR assets. 
Somnium has partnered with several blockchain platforms, including Polygon, OpenSea, and Holaplex, to cater to the excellent user experience through its cross-platform VR clients.
Wrap-up
With the advent of Web 3.0, there's no denying that the metaverse will play a significant role for businesses in the future. The metaverse is still in its early days, and we are yet to find its true potential. Nevertheless, the metaverse opens up a new way of thinking about how we interact with the digital world, and real estate is just one application of this technology. 
If you're considering buying metaverse real estate, there are many things to consider. However, the potential rewards make it worth doing your research.